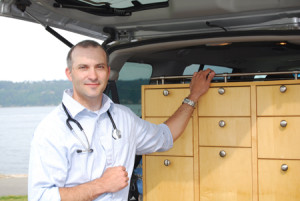 Clint McKnight, DVM
IVCA Certified
Dr. McKnight was born and raised in Ventura county graduating from Fillmore high school. After four years of participating in Future Farmers of America at Fillmore High, and growing up with horses, dogs, cats, hamsters, rabbits and raising fair pigs, he was inspired to become a veterinarian.
He received his under-graduate degree in animal science at Washington State University, and then obtained his veterinary degree from Ross University in 2004.  Dr. McKnight also graduated from the Options for Animals school of Animal Chiropractic as another tool for optimal medical treatment of horses.  After completing a year-long medical and surgical internship at Pilchuck Veterinary Hospital near Seattle, he accepted an associate position there, providing exceptional care and treatment to a broad range of performance and pleasure horses for 6 years before opening Pacific View Equine in September 2010.
Dr. McKnight loves the great outdoors, and is a National Park enthusiast.  Over the years, he has traveled and explored more than two dozen different National parks with his family. When not at work, he and his wife Julie enjoy spending time camping, hiking, and going to the beach with their two daughters Ashley and Ava.