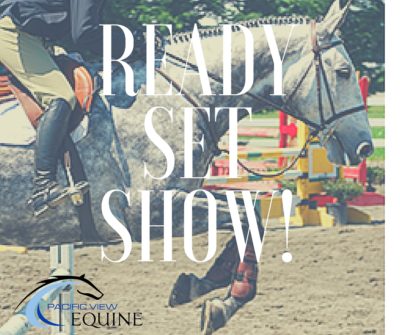 Ready! Set! Show!
Exam:  Want to win the blue ribbon?  Make sure your horse is ready!  Show fees and travel expenses can all add up, but if your horse isn't feeling well it will not perform at its best! Address any health changes with your vet, so they don't hold you and your horse back from success!
Chiropractic Exam:  You feel sore after a work out?  So can your horse!  A chiropractic exam and adjustment can help improve performance!  Plan in advance because after a chiropractic adjustment your horse will need 24 to 48 hours off to allow for those adjustments to set and hold.
Dental Exam:  Dental changes and sharp points can create ulcerations and lacerations on the soft cheek tissue.  This can lead to a horse with a sore mouth becoming resistant to working with a bit.  A dental exam with sedation and a speculum can identify these changes so they can be corrected before they become a bigger problem.
Joint Injections:  Performance horses are athletes!  Just like us, age, work, and performance level lead to changes in the joints.  Inflammatory change and arthritis lead to a decrease in comfort and performance.  We can help reduce joint pain and soreness in those specific joints involved.
Gastrogaurd or Ulcergard:  Studies show approximately 65-70% of horses that show have some degree of gastric ulcers in their stomach.  Ulcergard can help prevent ulcer formation when used ahead of time, and Gastrogard can heal those ulcers that are creating discomfort.
Joint support:  Joint support supplements such as Platinum-CJ, Platinum Ortho-chon-HA, or Cosequin-ASU can help reduce inflammation and promote optimal joint function slowing the progression of arthritis.  Injectible joint support supplements such as Adequan or Legend provide higher levels of very specific medications and can have an even more pronounced effect.
Vaccinations: Each show may have specific vaccination requirements; check to make sure your horse has these in advance and is up to date on its annual vaccinations.  Vaccinations traditionally due in the spring: Eastern Equine Encephalitis/Western Equine Encephalitis, Tetanus and West Nile are given annually.  Influenza and Equine Herpes Virus (Rhinopneumonitis), are administered every 6 months.
Heath Certificate & Coggins:  Showing out of state?  You need a health certificate and Coggins!  A Coggins exam need to be done 10 working day in advance in order to have time for a laboratory to process blood results.  A health certificate is then issued upon receipt of these results.  A Coggins is good for 6-12 months depending on the state and health certificate is good for 30 days.  Each state may have specific requirement, it is best to check these in advance.