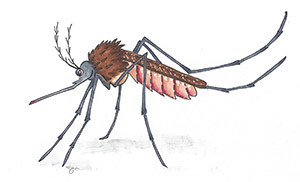 West Nile Virus is here!
Unfortunately I have some rather alarming news to pass along.  There has been a horse in Ventura County that has tested positive for West Nile Virus.  As I was not the veterinarian who saw or treated the horse I don't have any details regarding the horse, the outcome, or its location.  The Ventura County Star is reporting (on 9/3/2015) that it was in "The Fillmore Area" (read the article here) and the horse was unvaccinated but that is all the information that was provided.  I contacted multiple state agencies and it was confirmed that it was in "the east end of the county" but no specific city was provided.
This serves as a reminder for us all regarding the importance and value of an inexpensive vaccination when it comes to protecting you horse.  Current West Nile vaccinations are extremely protective (greater than 99%) and are a true once a year vaccine with little reported vaccination reactions.  Most equine veterinarians and the American Association of Equine Practitioners consider West Nile to be a core vaccination along with tetanus, and Eastern and Western Encephalitis.  That means we recommend all horses be vaccinated yearly.
If you are unsure if your horse has received their vaccination, or if they need it, please feel free to call (805-516-9090) or e-mail us (info@pacificviewequine.com) so we can make sure to get your horse(s) protected.
Birds serve as the main carrier for West Nile Virus, and mosquitoes serve as the vector transmitting the disease to many other species after biting an infected bird.  According to the California West Nile monitoring web site http://www.westnile.ca.gov/ , we have had between 6 and 8 birds test positive and 3 chickens.  There is no data for mosquito populations, humans, or horses for Ventura County as of this writing.  There have been 25 new human cases in the past week for the entire state of California.
Limiting exposure to mosquitoes for both you and your pets is extremely important.  Removal of any standing water that serves as breeding grounds can greatly reduce the population numbers and the use of insect repellants and blankets/netting for your horses can reduce bites.  The state of California provides excellent resources regarding West Nile Virus which can be seen at the following web site Ca.org West Nile FAQ or the AAEP website AAEP.org West Nile information
Please pass this information along.
Thank you,
Clint McKnight, DVM